Früh um 8:00 am Dienstag dem 10.10.2017 wurden wir von Richard wieder sicher an unser Ziel geleitet, das etwa ein Stunde entfernt in Richtung Bristol lag. Around 8 o'clock we met and Richard led us safly to our destination which was about an hour away in the direction of Bristol.
Hier kam es zu einem erfreulichen Wiedersehen mit Mark Bettinson, den wir in 2016 bei einem Workshop in Heerle kennengelernt hatten (vgl. Beitrag vom 17.04.2016 auf unserer HP – Workshop mit Mark Bettinson in Heerle).
How surprised and delighted we were to meet Mark Bettinson again. We had met him the year before when he and his son Jamie had held a workshop in Heerle, Belgium (see the article on our hompage "workshop mit Mark and Jamie Bettinson in Heerle – 17.04.2017′)
Mark unterstützte seinen engen Freund Steve bei unserem Field Triel auf 'live game' als Schütze und übernahm auch Aufgaben eines Richters. Steve Ashby begrüßte uns alle sehr herzlich – In our field trial on live game Mark supported his close friend Steve as a Gun and as an assistent. Steve warmly welcomed us –
und wir lernten alle Helfer und Teilnehmer bei dem Field trial kennen. Neben den sechs Teams vom ersten Trainingstag nahm heute auch Charlotte Wear aus Somerset teil (unten im Bild ganz links), and we got to know the participants and helpers of the field trial. In addition to the six teams from the first training day, Charlotte Wear from Sommerset also took part (in the photo on the left),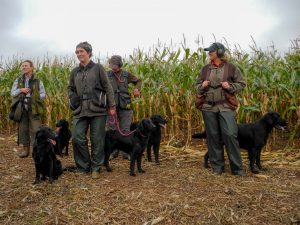 vier Schützen (inklusive Mark) und vier Treiber, unter ihnen Steve's Ehefrau Sally Ashby (im rechten Bild in Vordergrund) und Conny und Horst. four Guns and four drivers among them Sally Ashby, Steve's wife (in the right photo to the left), and Conny and Horst.
Wie schon angekündigt fand der Trial in hoher Feldfrucht statt. As announced before, the trial took place in high field crop.
Nach ausgiebiger Begrüßung untereinander und einige nach einem zweiten Frühstück, After we had all greeted each other and after a small second breakfast,
marschierten wir gegen 10 Uhr los und stellte uns zum 'walk up' auf. we started at around 10 o'clock and built a line for a walk-up.
Für Jeffrey ungewohnt waren die Volieren, die überall in den Feldern standen. The aviaries, which were all over the fields were unfamiliar to Jeffrey.
Fiel ein geschossenens Rebhuhn in die Nähe der Voliere, oder gingen wir nahe vorbei, so waren die Vögel natürlich unruhig und flogen in der Voliere hin und her. If a bird fell in the vicinity of an aviary, or if we passed too near, the birds were naturally restless and flew back and forth in it.
Das brachte Jeffrey vor allem zu Beginn etwas aus dem Konzept. That irritated Jeffrey a bit, especially at the beginning.
Es zeigte sich deutlich, dass die schwedischen und englischen Hunde mehr Erfahrung mit Lebend Wild hatten. It was also noticible that the Swedish and English dogs had more experience with live game.
Das Training lief genau wie ein Field Trial ab. Steve war 'Master of the Beat' und Richter. Er bestimmte, welches Team welches Rebhuhn, welchen Fasan apportieren sollte. Steve ging in der Mitte der Line, Mark Bettinson an der Außenseite. The training went just like a field trial. Steve was 'Master of the Beat' and judge. He decided which team should get which partridge, which pheasant. Steve went in the middle of the line, Mark mostly on the right;
Runner wurden sofort geholt. Jeffrey wurde einmal von Mark spontan auf einen Runner geschickt, während ein anderes Team von Steve eingewiesen wurde. Jeffrey nahm die Spur des Fasans sehr gut auf und folgte ihm weit, bis er ihn zwischen landwirtschaftlichen Stallungenen aufspürte.
Runners were fetched immediately. Once Jeffrey was spontaneously sent to a runner by Mark while Steve showed another team were their bird was to be fetched. Jeffrey followed the trail of the pheasant very well and tracked it down between agricultural stables.
Falls ein Hund große Schwierigkeiten beim Finden des Wildes, bzw beim Einweisen auf dieses hatte, durfte der Hund hin und wieder auch ein zweites Mal an die gleiche Stelle geschickt werden; dann auf ein für den Hund nicht sichtig gelegtes cold game. Der Trainingsaspekt stand während des Trials im Vordergrund. If a dog had difficulties in the high vegetation to be guided in, he now and then got a new chance and was sent again on a cold game in the same area. The training aspect was very important during the trial.
Im Folgenden weitere Impressionen von einem lohnenswerten Field Trial Training. Danke an alle Beteiligten, die uns diesen interessanten und ereignisreichen Tag ermöglicht haben. Besonderer Dank geht natürlich an Steve Ashby für das sehr gute und kompetente Training und an Richard McHoward, der das internationale Treffen organisiert hatte. The following photos give a good impression of a worthwhile field trial training. Thanks to all those involved who made this interesting and eventful day possible. A very special thanks goes to Steve Ashby for the very good and competent training and to Richard McHoward, who had organized this internatonal meeting. (photos, Text @ C.Mewis)